Introducing NVIDIA Jetson Orin Nano Dev Kit
TL;DR;
Jetson Orin Nano 8GB module with heat sink and reference carrier board
The carrier board can accommodate all Orin Nano and Orin NX modules due to 100% pin and form factor compatibility
40 INT8 TOPS powered by 1024-core Ampere GPU
Up to 80X higher performance than Jetson Nano
6-core Arm® Cortex-A78AE v8.2 64-bit CPU
8GB 128-bit LPDDR5 memory, 68GB/s
Available for pre-order at $499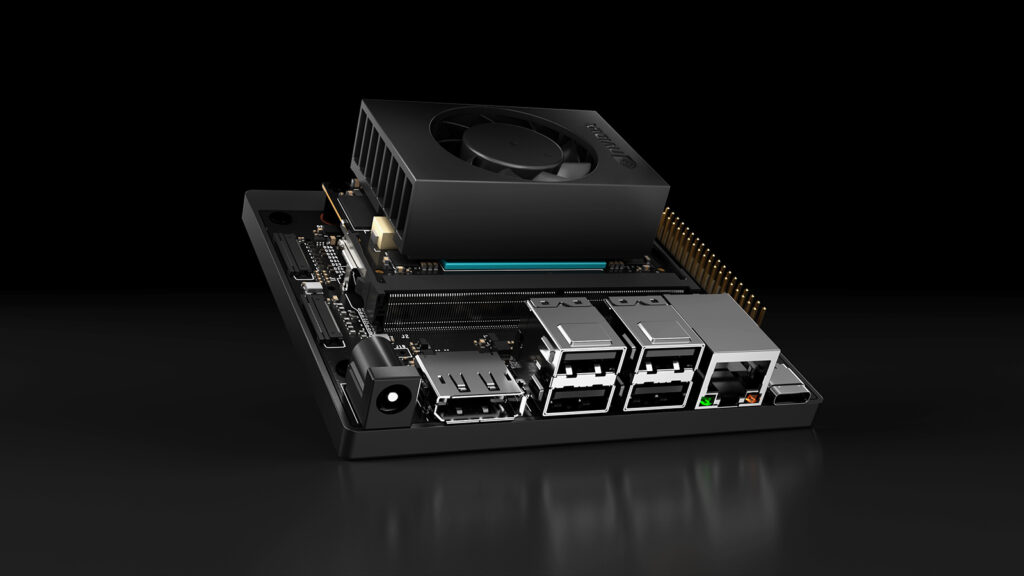 NVIDIA Jetson Orin Nano Dev Kit
The developer kit contains a Jetson Orin Nano 8GB module and a reference carrier board that can support all Jetson Orin Nano and Orin NX modules. This makes it an ideal platform for prototyping next-gen edge AI products. The Jetson Orin Nano 8GB module features an NVIDIA Ampere GPU with 1024 CUDA cores and 32 third-generation Tensor cores. It also has a 6-core ARM CPU that can run multiple concurrent AI application pipelines and deliver high inference performance. The carrier board included in the developer kit comes with a wide array of connectors, including two MIPI CSI connectors that support camera modules with up to 4-lanes. This allows for higher resolutions and frame rates.
Up to 80X Higher AI Performance
The Jetson Orin Nano 8GB System-on-Module (SoM) is power-efficient and can deliver up to 40 INT8 TOPS of AI performance within a 15-Watt power budget. This is an 80X speedup over the previous generation Jetson Nano. For applications requiring FP32 precision, the Orin Nano 8GB delivers more than 5X the FP32 CUDA TFLOPS of Jetson Nano. With six Arm A78 CPU Cores, it delivers almost 7X CPU performance. For designs with lower power requirements, the developer kit can be tuned for power profiles as low as 7W. The Jetson Orin Nano is incredibly energy-efficient and is almost 50X more energy-efficient than Jetson Nano for AI performance.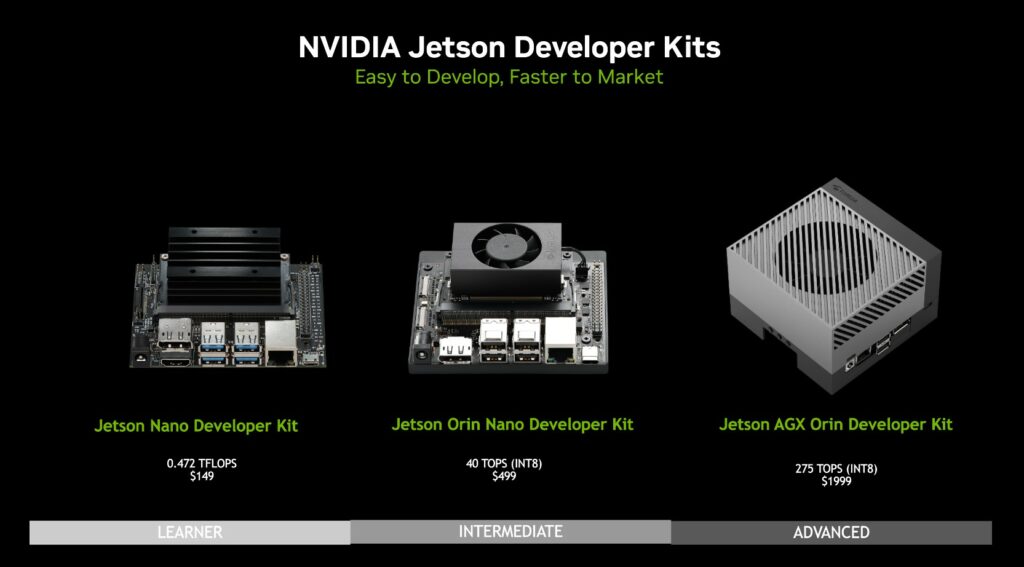 Specs
GPU

NVIDIA Ampere architecture with 1024 NVIDIA® CUDA® cores and 32 Tensor cores

CPU

6-core Arm Cortex-A78AE v8.2 64-bit CPU

Memory
Storage

external via microSD slot
external NVMe via M.2 Key M

Power
Connectivity

2x MIPI CSI-2 22-pin Camera Connectors
M.2 Key M x4 PCIe Gen 3
M.2 Key M x2 PCIe Gen3
M.2 Key E PCIe (x1), USB 2.0, UART, I2S, and I2C
USB Type A: 4x USB 3.2 Gen2
Gbe Ethernet
DisplayPort 1.2 (+MST)

Dimensions