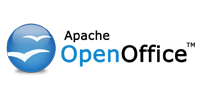 The first version of OpenOffice under the governance of the Apache Software Foundation has been released.
Apache OpenOffice 3.4 is available for download free of charge. OpenOffice 3.4 features:
word processing, spreadsheets, presentation graphics, databases, drawing, and mathematical editing applications support for Windows, Linux (32-bit and 64-bit) and Macintosh operating environments
native language support for English, Arabic, Czech, German, Spanish, French, Galician, Hungarian, Italian, Japanese, Dutch, Russian, Brazilian Portuguese, Simplified Chinese, and Traditional Chinese
improved ODF support, including new ODF 1.2 encryption options and new spreadsheet functions
enhanced pivot table support in Calc
enhanced graphics, including line caps, shear transformations and native support for Scalable Vector Graphics (SVG)
improvements in performance and quality
The complete list of new features, functions, and improvements is available in the Release Notes.